Enquire Now
What is a Hot Work Permit?
The hot works permit or passport scheme was first introduced as a response to an increase in fires, caused by hot works on building sites and other workplaces. The hot works permit was then created, in order to ensure all workers and supervisory staff understand the risks from hot works.
The hot works permit and passport is now an industry recognised qualification and many employers will not hire those that have not undergone the training.
Ensuring employees have the hot work training, helps to massively decrease the risk of preventable fires and accidents in the construction and maintenance industries, so it is recommended that all staff have completed the training, before engaging in hot work.
What is hot work and what is a hot work permit?
Hot work is defined as work which involves naked flames or the production of heat or sparks. This includes:
Welding and cutting
Brazing and soldering
The use of blowlamps/blowtorches
Management of bitumen/tar boilers
The use of grinding wheels and cutting discs
Fire in buildings under construction caused by hot work
To understand the risks, we have requested freedom of information from Fire and Rescue Services across the UK in 2018/2019.
England
Upon contacting all English Fire and Rescue Services, we were able to identify locations with the highest number of fires in the construction industry.
In total there were 218 fires in buildings under construction across England. 44 fires were caused by hot work.
The 5 places with the highest numbers are:
London; 81 fires in the construction industry
Devon & Somerset; 27 fires in the construction industry
Merseyside; 19 fires in the construction industry
Lancashire; 18 fires in the construction industry
South Yorkshire 17 fires in the construction industry
But the data we were most interested in, was how many of those incidents within the construction industry were caused by hot work.
The information received from Fire & Rescue services across England suggested that:
Dorset & Wiltshire has the highest number of fires in the buildings under construction caused by hot work, 24. This is followed by East Sussex 7, London 4, and Derbyshire 3. Other locations had one or zero fires caused by hot work.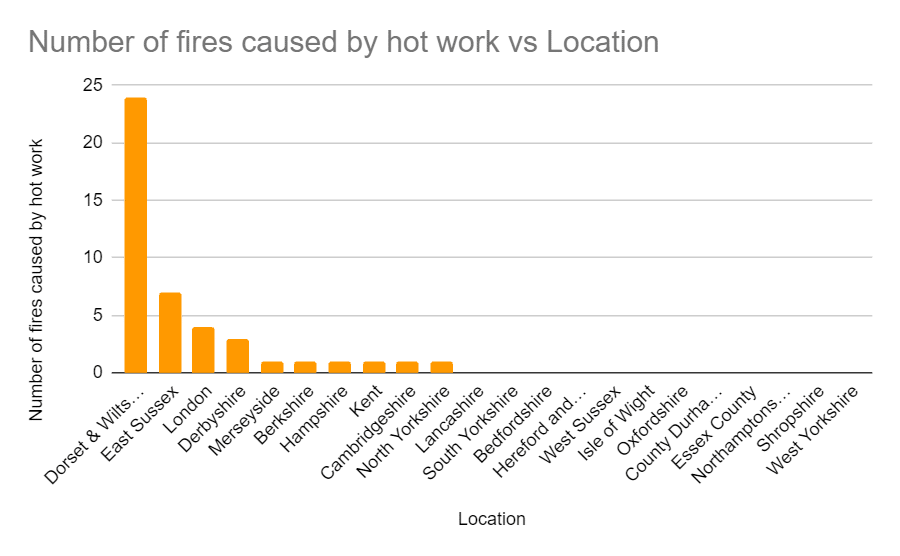 We were able to find out that the main cause was welding/cutting equipment, combustible articles too close to the heat source, and incidents involving the use of a blow torch or other industrial equipment.
In total there were 4 injuries across England.
The team at CE Safety contacted 40 Fire and Rescue Services across England, of those, 10 do not record information relevant to construction industry and 5 have not replied yet.
Wales
According to figures from Fire and Rescue Service in South Wales, there were 3 fires in buildings under construction caused by hot work. Two incidents were caused by soldering and one by welding. There were no injuries reported.
The North Wales Fire & Rescue Service confirmed that there was 1 fire incident in a building under construction. There were no casualties or fatalities recorded. The fire was caused by industrial equipment (welding/cutting equipment).
The Mid and West Wales Fire & Rescue Service recorded 13 incidents related to 'welding equipment' within various property types.
The causes were also divided into:
Careless handling – due to careless disposal
Combustible articles too close to a heat source (or fire)
Natural occurrence
Negligent use of equipment or appliance (heat source)
No injuries were reported.
That is a total of 17 fires caused by hot work in Wales.
Scotland
Furthermore, Scottish Fire & Rescue Service confirmed that there were 180 fires in the construction industry in 2018/19, an overwhelming 143 (79%) of which were the result of hot work.
51 fires during this period were caused by welding or cutting equipment
22 by manufacturing equipment
23 by kilns or other services.
These fires resulted in 21 casualties.
Northern Ireland
Northern Ireland Fire & Rescue Service has confirmed with us that they do not hold information on fires in buildings under construction.
Is a hot work permit required by law?
A hot work permit is a legal requirement for most forms of hot work and is an expectation of any enforcing authority such as the HSE and any local Fire and rescue service. A Hot Work Passports is recommended for anyone involved with hot works. This includes manual workers, supervisors and site managers, as well as anyone responsible for overall health and safety on site.
The training is not a legal requirement, however the permit itself is a legal document. It clearly states the responsibilities, and therefore liability, of individuals under the Health and Safety at Work act 1974, the Regulatory Reform (Fire Safety) order 2005, and CDM Regulations 2015.
Course content
The hot work permit and passport training covers every stage of the process, from risk assessment and preparation to final precautions once work is complete. The course has been carefully designed, to ensure that all workers are fully equipped with the knowledge they need in order to work safely in hot work, from start to completion.
Risk assessment
How to identify fire risks
Hot Work Permits
How to identify ignition sources and flammable materials
How to identify risks to personnel
How to formally record your risk assessment
Fire prevention training
Assessing whether it is necessary to do the work in the location
Preparation and protection of the working environment
How to protect composite panels and voids
Making sure escape routes are planned and clear
Taking non-essential workers out of the area
Complete removal of all hot tools and waste materials
Organising fire monitoring for at least an hour
A guide to safe use of hot work equipment, including:
Welding and cutting equipment
Tar and bitumen boilers
Cutting discs and grinding
Post-work precautions
What will I get from the hot work permit and passport course?
Our hot works passport training course will provide all the knowledge you need in order to make you more aware of the risks posed by hot work. You will learn how to conduct a hot works risk assessment, how to prepare the area for hot work, how to conduct hot works safely and how to monitor the environment, to ensure no hazards arise once the work is complete.
This training course will also make you aware of your responsibilities to yourself, your colleagues and the environment in which you are conducting the work. In most cases, the course can be tailored to your individual workplace and the kind of work you do.
How long is the course?
Hot Work Permit and Passport Training is a one day course lasting 6-hours. Open courses are available with fixed times – usually 9am to 5pm, however if training is arranged in-house, course times can be varied as required, to fit shift patterns.
How is the training assessed?
It is important that all candidates understand all parts of the course as it is delivered. There is a final written test at the end of the training, which needs to be passed to complete the course.
How long are you allowed to keep hot work permits?
The hot work passport qualification is valid for five years, however, you may wish to refresh your skills within that period. The certificate you receive is valid across the industry and is widely accepted by employers and their insurers.
How to get a hot works passport permit?
We deliver the training onsite at your workplace. You can choose a date suitable to yourself, providing we have instructor availability.
What does hot work permit and passport training cost?
We aim to deliver our training as cost-effectively as possible, whether you are an individual or a large company. With increased safety, improved employment prospects and lower insurance costs, hot work permit training is worth every penny.
To get the best price for your course, talk to our team about hot work permit and passport training today on 0800 774 7034.
Interested? Enquire about a course below: