Enquire Now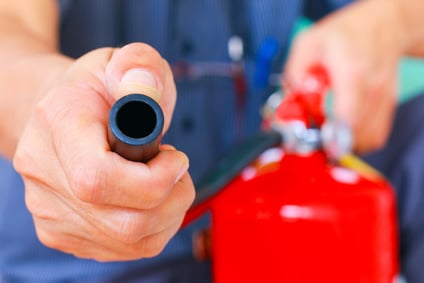 You should attend a Fire Warden Course or Fire Marshal course  if you have specific duties as a fire marshal / warden within your workplace, or if you want to step up to this role.
Fire Marshal / Warden Training is designed to give you the competence and confidence to take charge during an emergency situation, and to ensure the safety of your colleagues and co-workers. It also fulfills your legal obligations as an employer to offer adequate fire safety provision.
Fire Marshal Training Introduction
Fires and other emergencies, such as explosions and gas leaks, can occur at any time in any workplace, with many workplaces at increased risk due to the nature of their business. If you have the training to know how to react, and how to help others, you can make a significant difference to the outcome of these events.
Fire marshals / wardens work proactively to prevent fires and encourage fire safety awareness in the workplace. They also take charge during emergency situations, ensuring that everyone clears the building efficiently and effectively and that fire fighting equipment is used correctly where appropriate until professional help arrives. They also liaise with the Fire Services in an emergency, giving them all the information they need to fight the fire safely and effectively.
Is the Fire Warden Training Course right for me?
By taking this course, you can become qualified to be a nominated fire marshal / warden. It will give you the confidence to take charge promptly and professionally in any emergency situation, protecting property and potentially saving lives.
As a company, you are obliged to appoint and arrange training for fire marshals / wardens in order to comply with your legal obligations under  the Regulatory Reform (Fire Safety) Order 2005. This training syllabus meets the requirements of this legislation. (It is important to remember that you will need multiple fire marshals / wardens to cover sickness and holidays as well as shift patterns as appropriate.)
What will I learn?
By taking the Fire Marshal / Warden Training Course, you will learn your roles and responsibilities in an emergency situation. You will gain knowledge of fire regulations and fire safety precautions to help you prevent fires, as well as a thorough knowledge of how to react effectively should an emergency occur.
The training can be tailored to the specific needs of your workplace including the company equipment and materials present and the fire safety equipment available.
What does the course cover?
The training goes beyond our basic Fire Awareness Training, and looks in depth at the subject of fire safety and the role of a fire marshal / warden, including:
The Regulatory Reform (Fire Safety) Order 2005 – This is the main piece of legislation which relates to fire safety issues in the England and replaced 118 pieces of previous fire legislation.. For Scotland this is the Fire Scotland Act 2005 and the associated Fire safety (Scotland) regulations 2006
Enforcing Authorities Fire Safety in the Workplace- Covers the responsibilities of your local Fire and Rescue Service, the HSE and the local Council in relation to their roles and responsibilities for enforcement
Fire Risk Assessment (FRA)- Does you business have a fire risk assessment. Does your business need a written down recorded fire risk assessment. Should staff have read and understood the fire risk assessment. Should staff have access to the fire risk assessment. Who should carry out the fire risk assessment and how often does it need to be reviewed.
Triangle of Fire
Roles of a Fire Warden and a Senior Fire warden- What is the difference between the roles of a Fire Warden and a senior Fire Warden
Causes of fire and ignition sources – Covers common causes of fires in workplaces, such as arson, electrical issues, poor housekeeping
Fire prevention measures
Fire control in practice
Fire extinguishers- This covers the different types of fire extinguisher, the siting of appropriate extinguishers at your premises, the number of extinguishers required for a premises, the correct servicing of the extinguishers and checks to be made at regular intervals on fire extinguishers by staff. Also practical use of extinguishers by delegates overseen by the instructor provided there is a suitable area to discharge the extinguishers at the clients premises.
Emergency/evacuation procedures- Goes through the emergency procedures that should be included as part of your fire risk assessment process and how staff should be provided with information regarding the emergency and evacuation procedures and also how often this information needs to be refreshed to staff.
Action to be taken on hearing a fire alarm- Have all staff been told the actions to be undertaken on hearing the fire alarm and are all staff perfectly clear what their roles are in the case of a fire or other emergency.
Evacuation Drills- Covers how many evacuation drills need to be undertaken legally in a workplace and also the recommended number of evacuation drills, and the requirement to take into account any shift patterns, night work or where there is sleeping accommodation. What needs to be assessed and recorded during evacuation drills. Also the need for co-ordination of evacuation drills in multi occupancy buildings with a unified fire alarm system.
Fire Doors- How much protection do fire doors provide and what is the purpose of the doors. The rating systems fore fire doors. Are there any circumstances where fire doors can be left open using special devices which will mean the fire doors will still do their job in the case of an emergency. Do fire doors provide protection from smoke.
Your company Fire Plan and the information required by the Fire Brigade on arrival
Special arrangements for staff with special needs Disability provision – Covers the requirement to provide protection for staff with a disability by carrying out a risk assessment. Covers all types of disability, whether that be physical or learning a temporary disability or a permanent disability. What is a Personal Emergency Evacuation Plan , PEEPS, how many PEEPS does the business need. Do I need to record a PEEP. Who should carry out a PEEP and do Personal emergency evacuation plans ever change. Goes through PEEPS for non staff such as visitors, contractors, the public.
Fire Alarm System- Do I need a fire alarm, what type of fire alarm system does your business need. How often does the Fire alarm system need to be checked internally and how often does the fire alarm need to serviced by a qualified fire alarm engineer. Do all staff need to know about the fire panel and how it works to identify the possible location of a fire and whether a call point or a specific type of detector has been triggered.
Signs- Fire safety signs, is there a standard for fire safety signs in the UK, are they clearly visible.
The training will also cover a brief overview of thepassive and active fire protection equipment available in your workplace, includingautomatic fire detection systems (smoke detectors), manual fire alarm systems (break glass points) and fire and smoke stop doors. Where possible, it will also cover the use of your fire fighting equipment (subject to a suitable location for safe demonstration).
Duration
Your training will take between 3½ and 4 hours, depending on your individual circumstances, and normally takes place in the morning between 9.00am and 1.30pm, although the start time can be varied to suit staff availability.
How am I assessed?
You will be continually assessed as it is delivered, to ensure all attendees have understood the principles being taught. There is no formal assessment at the end of the course.
Certification
On completion of the course, you will receive a certificate of attendance.
Where is the Fire Marshal / Warden TrainingCourse held?
Because of its location specific nature, the Fire Marshal / Warden Training Course is normally held in-house at your business premises. This allows practical, relevant training to be delivered in the actual environment in which it will be applied. In-house training also makes it easier to tailor training to the specific location and fire safety equipment available, so that fire marshals / wardens can develop the familiarity they need to act fast in an emergency situation.
In-house training eliminates travel time and costs, making training more convenient and cost-effective.
Cost for Fire Marshal / Warden Training
We are confident that we can offer you a competitive price for convenient, tailored fire safety training. Talk to our friendly team today on 0808 164 9690 and see how we can help you take better care of your team.
All prices exclude VAT.
Interested? Enquire about a course below: