Enquire Now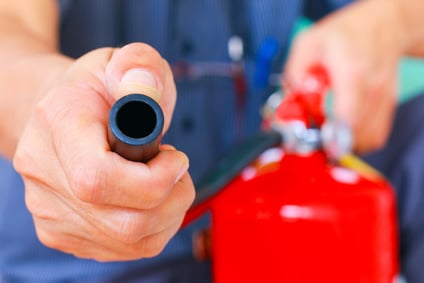 Being a fire warden or marshal is a big responsibility and entails several very specific and important tasks, so, whether you already hold the role or you're aspiring to step up to it, this course covers everything you need to know to keep your company and its people safe.
By the end of our session you'll:
Have the confidence and competence to take charge in the event of an emergency, and
Tick all the legal boxes when it comes to sufficient fire safety provision.
Why is fire marshal training needed?
You never know when fire, explosions or gas leaks are around the corner, but while you can't control what happens tomorrow, you can control how ready you are to react, help and limit any damage – and that's where fire marshal training comes in.
As well as taking measures to proactively prevent fires in the first place, fire marshals are responsible for:
Promoting business-wide

fire safety awareness

,

Taking the lead during emergency situations,

Safely and efficiently getting everyone out of the building,

Ensuring all fire fighting equipment's used properly, and

Liaising with the fire services.
Each is paramount to your colleagues' safety, each requires a different set of skills, and each is covered in our training course.
Is this course right for me?
Fire warden training isn't optional, it's a legal requirement. Under the Regulatory Reform (Fire Safety) Order 2005, every single company must appoint and provide training for their fire marshals/wardens and our courses check all those boxes. 
And remember, regardless of how big or small your business is, you'll need more than one fire warden to cover things like sickness, holiday leave and varying shift patterns (if applicable).
Our courses don't just cover you legally though, they equip you with everything you need to confidently and professionally lead your colleagues, protect your business' property, mitigate risks and save lives. If that sounds like something you want a piece of then you're in the right place.
Who enforces fire safety?
It depends what kind of business you are. For most workplaces the enforcing authority is your local Fire and Rescue Service, if you're in the construction industry it's the Health and Safety Executive, and if you own or operate a sports stadium it'll be your local council.
What will I learn?
All our courses cover the following as standard:
Your roles and responsibilities in an emergency situation

Information around fire regulations

What you can do to prevent fires, and

How to deal with an emergency calmly and effectively.
We can also tailor the training to your business' specific set-up around things like what equipment you use, the type of materials you have lying around, and which fire safety equipment you have on-site.
What does the course cover?
We take a really in-depth look at everything from your evacuation drills and fire doors to enforcing authorities and fire risk assessments, to make sure you've got all the tools you need to ensure your business' safety.
| Course area | What's included |
| --- | --- |
| The Regulatory Reform (Fire Safety) Order 2005 | We outline everything you need to know about the main piece of fire safety legislation. If you're in Scotland the equivalent is the Fire Scotland Act 2005 and the associated Fire Safety (Scotland) Regulations 2006. |
| Enforcing authorities | An overview of the responsibilities placed on you by your local council, fire and rescue service and the HSE, as well as their enforcement powers. |
| Fire Risk Assessment (FRA) | We answer common questions like: do I need a FRA? Does it have to be written down? Who should conduct the FRA? How often does it need to be reviewed? |
| Triangle of fire | A look at the three elements needed to ignite a fire and which ones could be lurking in your business. |
| Roles | We cover the key differences between a fire warden and a senior fire warden. |
| Fire and ignition sources | We take a look at some of the most common causes of fire in the workplace, like arson, electrical issues and poor housekeeping. |
| Prevention measures | A close look at what your business can start doing today to prevent a fire from starting in the first place. |
| Fire control in practice | If a fire does break out reducing the heat output and spread is paramount and in this part of the session, we explain what steps should be taken to do just that. |
| Fire extinguishers | We'll start off by talking you through the different types of extinguishers, which ones you need, how many you need and what kind of checks are needed and when, and then we'll give a practical demo of an extinguisher in action. |
| Evacuation procedures | A step-by-step look at how staff should be given the information, how often they should be refreshed and how your plans form part of your FRA. |
| Post-fire alarm action | Do all your staff know what to do when they hear it sound? And is everyone clear on their role in the event of an emergency? |
| Evacuation drills | We give the lowdown on how many drills you need to legally make versus the recommended amount, help you understand any requirements you need to take into account (like shift patterns and night work), and answer questions like what needs to be assessed and recorded? |
| Fire doors | A good look at everything from how much protection they provide and what the rating systems mean to whether or not fire doors provide protection from smoke and if you can leave them ajar using special devices. |
| Fire plans | What's your current plan? Are there any gaps that need plugging? Do you know what information the fire brigade need on arrival? We'll answer all that and more in relation to your business. |
| Special arrangements for staff with special needs | We cover your responsibility to create separate risk assessments for people with special needs - like physical, learning, temporary and permanent disabilities, and answer pertinent questions like what's a Personal Emergency Evacuation Plan (PEEP)? How many do I need? And who should carry them out? |
| Fire alarm systems | An in-depth analysis of how many fire alarms your business needs, what type it needs, how often your alarms should be internally checked, when they should be serviced by a qualified engineer, and whether or not your employees know how your fire panel works. |
| Fire safety signs | Are you familiar with the fire safety sign standards in the UK? And are all your signs understood and clearly visible? |
On top of all that, our courses also include:
An overview of the passive and active fire protection equipment in your workplace, including detection appliances (smoke detectors), manual fire alarm systems (break glass points) and fire and smoke stop doors.

Practical use of your business' fire fighting equipment – providing you have a suitable location for safe demonstrations.
Course specifics
How long will it last?
Between 3.5 – 4 hours depending on individual circumstances. We usually run our sessions from 9am to 1.30pm, however, this can be flexible to suit your needs.
How will I be assessed?
There's no formal assessment or anything like that, instead, we continually assess all attendees throughout the course to make sure everything we deliver is definitely understood.
Will I get a certificate?
Yes, we give everyone who's completed the course a certificate of attendance.
Where's the course held?
We usually come to your premises so we can give practical demos in the environment they'll be applied. In-house training also makes it easier for us to tailor the course content to your exact location and equipment and gives your fire wardens a familiar setting to develop their skills.
How much does a fire warden training course cost?
We don't offer a one size fits all price tag, we tailor our quotes to each business. Regardless of how many attendees you have or where you are in the country though, we can guarantee it'll be competitive. To get your quote today give the team a call on 0808 164 9690.
FAQs
How many fire marshals does my organisation need?
It depends on how many employees you have and the type of premises you're in. If you're a normal-risk business and have less than 20 employees you need at least one fire marshal. If you have between 20 – 75 occupants you must have a minimum of two fire marshals and after that, you need an additional fire marshal for every 75 people.
However, if you're in a multi-level building or operate from more than one site, you need at least one fire marshal per floor or site and it's also important to have more than one person trained in case one of your marshals is off sick or on holiday, for example.
You can learn more on this here.
What are the duties of a fire marshal?
There are…a lot. Like checking emergency exits, fire extinguishers, fire doors, break glass call points, emergency lighting, fire safety signs, general housekeeping, smoking areas and that electrical devices are PAT tested
As well as testing fire alarms, controlling hazardous materials, conducting new staff safety inductions, organising fire drills, managing paperwork and logbooks, owning fire risk assessments, raising the alarm, closing doors and fire doors, pointing people towards emergency exits, assisting people with special needs, conducting a floor sweep, helping with the roll call and tackling small fires with a fire extinguisher.
We've covered the responsibilities in more detail here.
What are the legal requirements for a fire warden?
They must be competent to carry out the role, all the duties it encompasses and have received sufficient training to do so.
How long does a fire warden certificate last?
There's no expiry date for your certificate, however, industry best practice suggests you get it renewed every three years.
Do fire wardens need to be trained?
Yes, under the Regulatory Reform (Fire Safety) Order 2005, it's a legal requirement your fire marshals undergo training.
Interested? Enquire about a course below: